Make your dog's mealtime even more pleasant and comfortable with the specially raised bowl!
The main function of the raised dog bowl is to create a health-conscious environment. It allows your furry friend to eat in a natural standing position which aids in digestion and reduces stress on the body, improves overall health and well-being.
The solid non-slip base ensures that the bowl stays firmly in one place during your pet's eating. It's made from stainless steel material and the shelf is built with ABS plastic. It's non-toxic, rust and scratch-resistant, and provides your dog with a healthy feeding life. The non-slip ring at the edge of the bowl helps to hold the bowl securely. Now your pet will worry less about tipping and flipping, and will simply enjoy his eating time!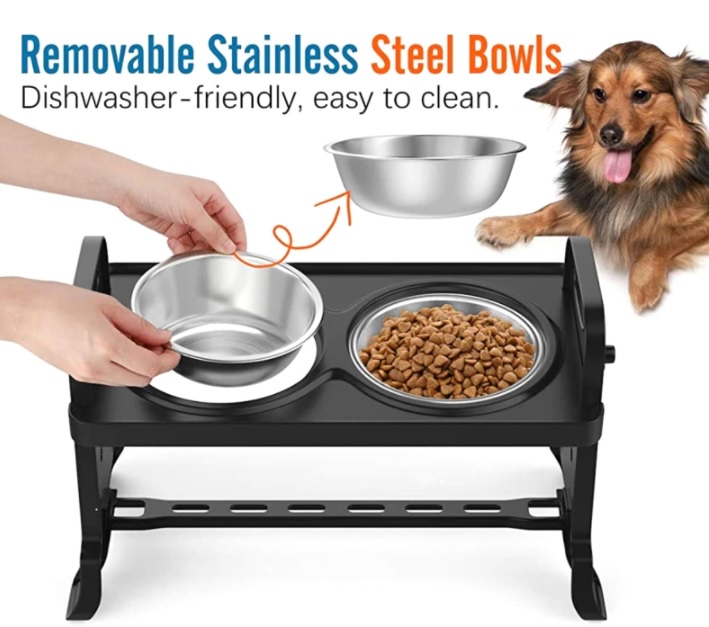 Detachable design of the bowl and the shelf allows easy filling and cleaning. The dog bowl is available in 2 sizes: small and large. It's ideal for medium or large breed dogs who need their bowls elevated. Even if your dog is a messy eater, this bowl will help your home stay clean. Just fill the bowls up with food and water and you're done!
KEY BENEFITS
✔️ PROVIDES HEALTHY FEEDING — Helps to reduce the strain on dog's neck and joints, and encourages better digestion. The adjustable elevated bowl holder reduces the chance of bloating and fits your dog's height.
✔️ EASY CLEANING AND REFILL — Made from a removable stainless steel, the bowl is rust-resistant. It's suitable for dishwasher use for easy cleaning and maintenance. Plus, the bowls can be used together or individually and are removed easily to refill.
✔️ ADJUSTABLE HEIGHT — The adjustable height of the elevated feeder makes it easy to grow with your dog, from small to large.