Deter your dog from pulling safely and gently with this No-Pull Harness!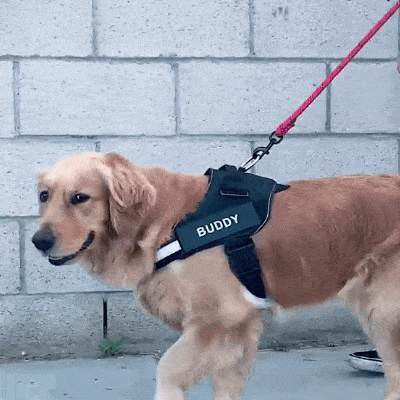 If you've ever tried to guide a zigzagging puppy's leash or walk a dog that's much stronger than you, you know that a simple leash and collar are sometimes not enough. For these situations, a harness is a solution. Safety, comfort and obedience training are some of the many reasons to add a harness to your daily walking with the dog. Our harness equally distributes weight across your dog's frame to discourage pulling, resulting in effortless control and comfort at the same time. The no-pull design makes sure you no longer restrict your dog's neck and chest, or cause general discomfort. It's' a must for flat-faced dogs, whose uniquely shaped faces often make it difficult to breathe.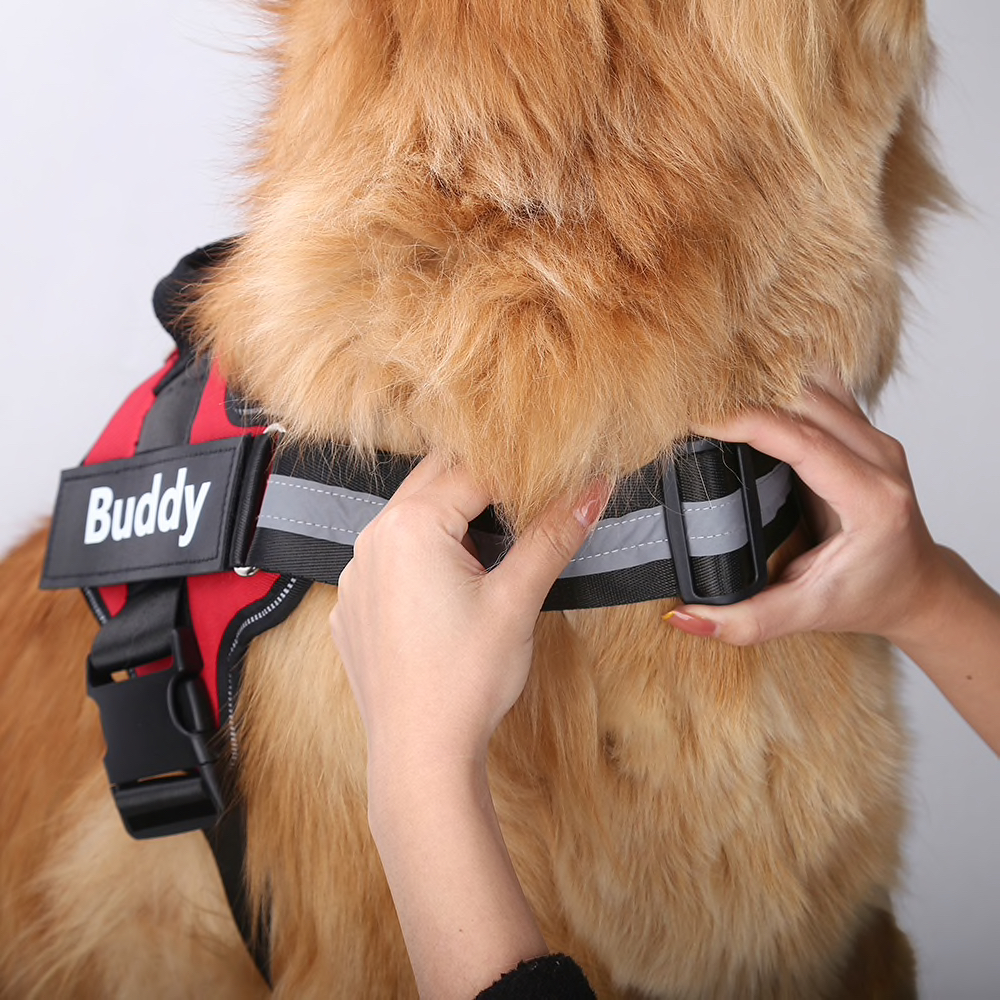 Made from soft, breathable mesh fabric, this lightweight harness won't' trap heat or water, keeping your dog cool as he walks. It has an adjustable chest strap that is gentle against the skin and hugs your pet's torso to provide a comfortable and secure fit. It also comes with a quick-release buckle for fast and easy adjustment, and there is a D-ring for attaching a leash. The reflective strips help with visibility for evening walks. With a range of sizes from XS to XXL, you'll get the perfect fit for your pet. It's primarily made to provide freedom of movement for your dog so it can run and explore without any restrictions.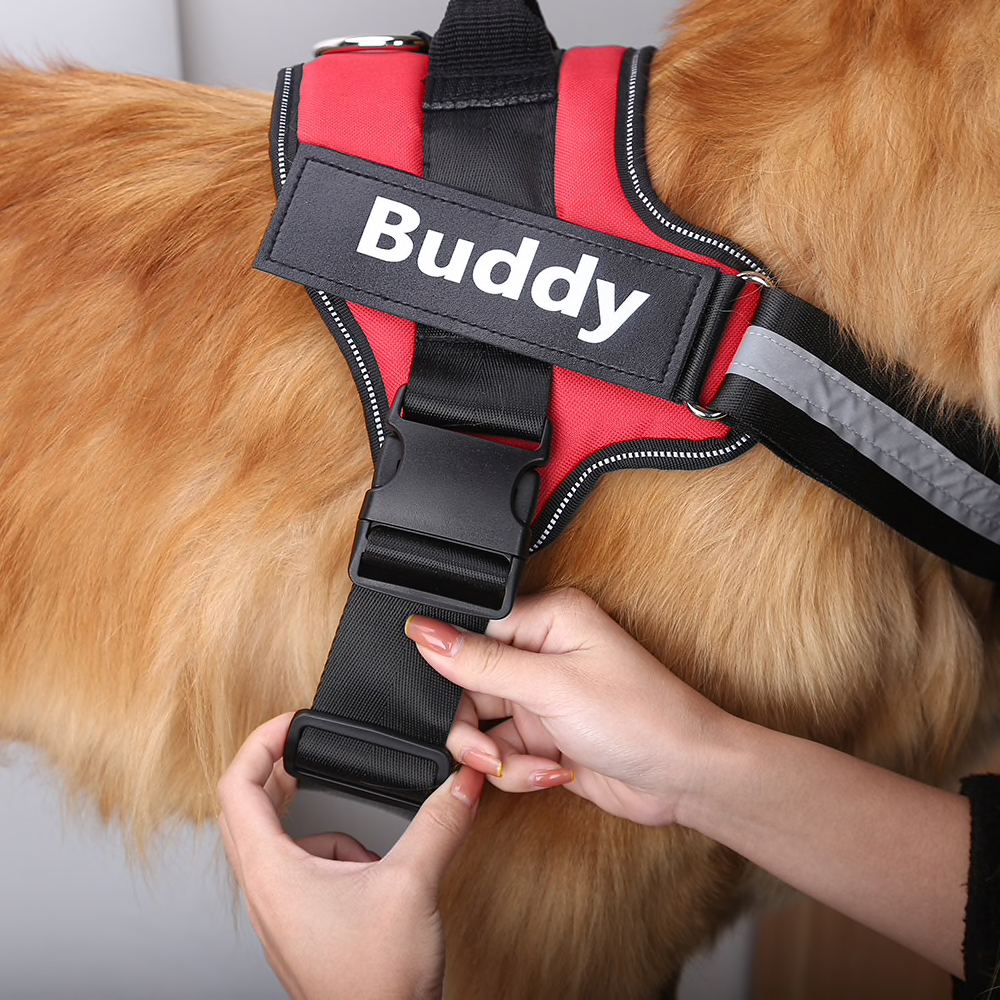 Every dog is unique and different. Now you can express your dog's individuality through the free customizable name tag. Whether it's' expressing your dog's intelligence with a clever slogan or personalizing it with the traditional name and phone number, the custom label makes your pet easily identifiable, so when your dog gets lost, you can return it home safely.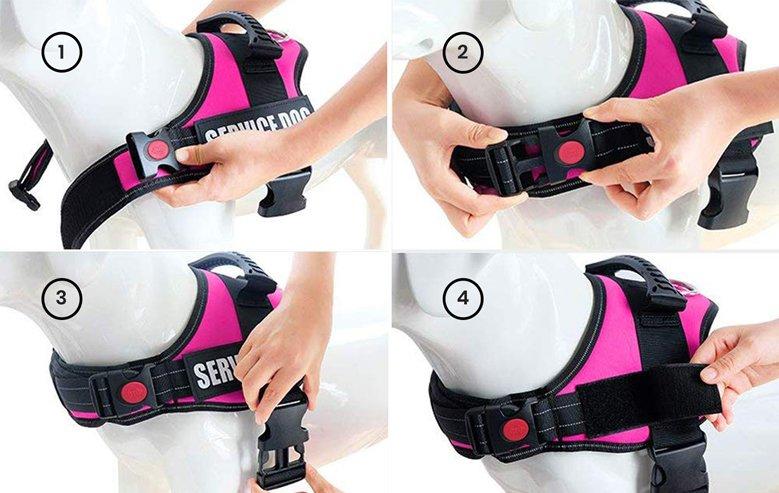 Our no-pull dog harness not only trains your dog to walk correctly, but it is simple to put on as well:
Put the harness on your dog.
Easy on and off buckle with lock design.
Adjust strap with quick-release buckle.
Remove or attach the velcro label.
KEY BENEFITS
✔️ PERSONALIZED NAME TAG — Express your dog's personality with custom slogans or include your dog" s name and phone number for extra security.
✔️ NO-PULL DESIGN — By using a no-pull dog harness, you can make walks more enjoyable, significantly reduce pulling behaviors and prevent your dog from hurting itself.
✔️ REFLECTIVE SAFETY — Reflective strips provide visibility whether it is a day or night, ensuring the dog's safety.
✔️ COMFORTABLE & EASY TO PUT ON — Made with an easy step-in style, you can adjust the whole fit of the harness for your dog's comfort over extended walks or hikes. 
✔️ HIGH-QUALITY FABRIC — Made for prolonged use from a soft and breathable mesh fabric perfect for letting air flow through on warm days, it will securely hug your pet while still being gentle on their skin.
SIZE CHART
Please make sure to measure your dog for accurate sizing before purchasing to ensure the perfect fit.